My last travel update concluded just as I was leaving Rome to head for UIKonf in Berlin; a trip that Apegroup made possible by sponsoring my conference ticket. Since I had already booked a plane from Rome to Prague, I had to take the train the last stretch to Berlin. The timing was supposed to be perfect. I would go straight from the Prague airport to the train station and then arrive in Berlin in enough time to check in at my hostel and go to the UIKonf pre-party. Or so I thought...
Of course my train gets severely delayed and I end up an hour late in Berlin. "No problem", I keep thinking. "I'll just go straight to the party and check in my stuff later". So I did. Well there, I meet both old and new acquaintances and we end up drinking a few beers at a Russian bar. Time flies by and as my cab arrives the hostel, I notice something. The windows are dark and the reception door is locked.
Desperately, I try calling a telephone number which I then hear ringing through the door. Without any clue or WiFi in one of the shadier areas of Berlin, next to a drug dealer's nest (Görlitzer Park), I walk around to see if there's anything open. After a while I then realize there's a slim chance that some drunk tourists who already checked in at the hostel, might head back home to sleep. So instead, I resort to stalking people. After a few embarrassing moments I finally see a girl heading straight for the door. Luckily, she doesn't pepper spray me and believes me after I show her my booking confirmation. Since she had a free bed in her room, I stayed there and it later turned out to be the exact bed I was booked for anyway.
---
The next day UIKonf began, dubbed "The independent conference for serious iOS developers". Even though it only started in 2013, organized by Chris Eidhof of objc.io, it has quickly become a high-profile European event in the community. I originally planned to write a dedicated blog post about it, since it was so great. But as you will soon find out, unforeseen circumstances came in the way.
Depending on how you see it, UIKonf lasted two to four days. The day before the actual conference, there were several workshops you could attend with topics ranging from Core Data to Microsoft Azure and UI-design. After the two-day conference, there was also a hack day which spawned incredibly useful tools like Pod Roulette and gave people mind-blowing insights on the Berlin Metro ticket system.
The conference itself was hosted at Heimathafen Neukölln, a gorgeous theater whose name took me the entire week to pronounce properly. Between the presentations, you had your usual coffee breaks. Except the coffee came from Berlin's best coffee shop and was of a different mix every time they served. That level of detail was found throughout the conference. Even the badges were uniquely etched in wooden plates.
The talks had well varied topics with a higher focus on practical use than the many inspirational talks at NSConference. The sheer quality of content and presentation of the talks at UIKonf really surprised me. A rising theme among the speakers was to use custom, interactive presentation apps instead of the usual Keynote (or Chris' hot new Deckset). The animation guru David Rönnqvist started this off with a gorgeous, fully animated SceneKit app to explain how OpenGL works on the iOS platform. Then Nick Lockwood took over by doing realtime image loading benchmarks on a custom iPad app, containing all slides and everything. These guys really set the bar and I hope we will see more interactive presentations from here on.
On thursday night, the conference concluded with a party hosted by Facebook, who recently impressed the entire community with Paper and all the great open source projects they've released. Waking up on friday, I felt like shit. Thinking it was a regular hangover, I went to the gym to sweat out the last drops of alcohol in my body before going to Betahaus to hack. When I later crashed at my hostel dorm, I could feel that I was on the brink of getting really, really ill. Just as I was going to fall asleep, a bunch of girls enter the dorm, cheering, all ready for a night out. And of course, my stupid self gets convinced by them to join on their nightly quest.
The Berlin nightlife is famous for the underground techno scene and its notorious bouncers who reject party-going tourists like flies. We ended up with around 10 people trying to get in to some of the more prominent clubs. In Berlin, you can't just go in as a group. They're to cool for that. What you instead do is split up into pairs and spread throughout the lines so the bouncers don't get suspicious. While some make it in, others don't, seemingly random.
After a great night out, I woke up feeling even more shitty than the day before. Thinking my hangovers just stacked, I once again went to the gym (worst decision EVER). When neither that or eating a solid meal didn't help, I started to gain suspicion that I might have caught something.
---
Taking the train back to Prague, I knew for sure I was having a bad throat infection. As beautiful and lively of a city Prague is, I couldn't enjoy it much and just rested as much as possible. Before I could tell, my days in Prague were over and my condition was only getting worse.
Budapest was a city that really made an impact on me even though my condition was progressing towards abysmal by the hour during the entire stay. It has incredible beauty, lots of stuff to do, great people and awesome nightlife. Since this was my last stay abroad before chilling heading back to Stockholm in wait for WWDC, I booked the craziest party hostel I could find together with Chad, the guy I went hiking in Morocco with. This idea turned up to be both great and disastrous at the same time. Retox wasn't your run-of-the-mill backpacker hostel. The partying there happened from mid-day till dawn, every single day. In fact, when we arrived, the staff warned us that their neighbors hate them so much, they sometimes throw buckets of shit on bypassing guests. ¯\(°_o)/¯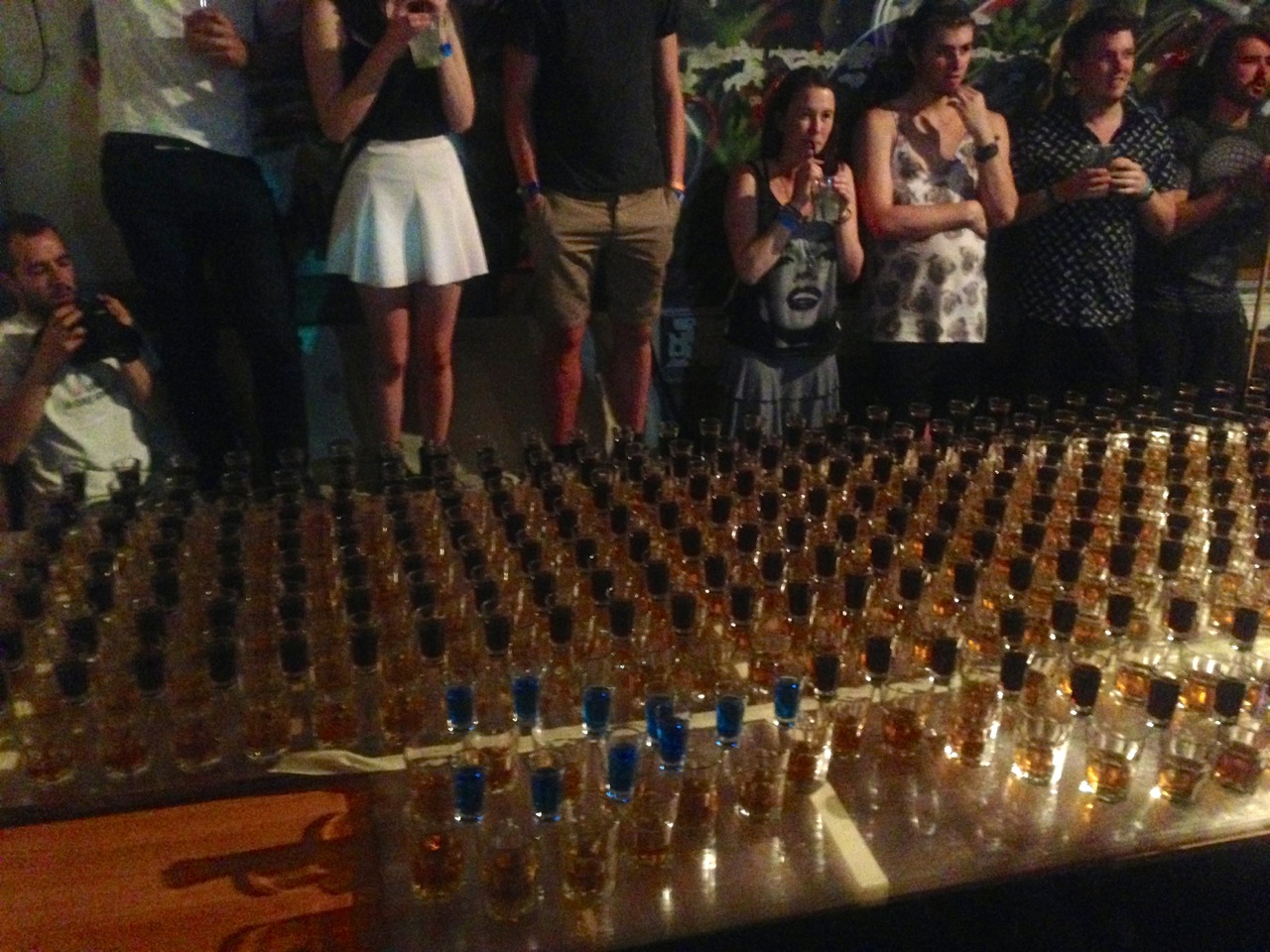 On the first night we met Tyler. Tyler was an American guy who was getting married in Slovenia a couple of days later and was on Retox for his bachelor party... except he was alone. By some weird force in the universe, all his friends who were invited had different mishaps happen to them, which made them unable to come. So there were me and Chad, his new stag's mates. Later on, Chad even joined in on Tyler's wedding in Slovenia and stood on his side as a groomsman.
My life in Budapest consisted of three things: partying, curing the hangover from last day and abuse painkillers to stay afloat. My throat was so bad at this point that I had to take cough drops every hour just to be able to talk. Alcohol and four hours of sleep a night didn't exactly help but there was no possible way of avoiding the parties. One of the more remarkable events was the sparty, set in the Szechenyi Baths outdoor spa. Imagine a hot spring pool, a DJ, lots of tourists and alcohol. How could you go wrong?
---
After all the craziness in Budapest, I was ready to drop dead. Arriving in Stockholm I went straight to the doctor, who took one look at me and concluded I was in dire need of penicillin. I looked forward to meet all my friends in Stockholm again, but that was outright impossible in my then current state. I recovered as best I could for a couple of days and then, it was time for San Fransisco and my very first Apple World Wide Developer Conference :D